Uh-oh, it's . . .
The Boston Market Story

Saddam but through: Hussein captured in Boston Market parking lot
BC-Hackensack -- Deposed dictator discovered in drag
By TERENCE "KEN" HUNT
AP Iraqensack Correspondent
HACKENSACK, N.J. (Roto-Reuters) -- Ruthless deposed dictator Saddam "Ken" Hussein was apprehended as he worked behind the counter of the Boston Market on River Street disguised as a female manager named Renata after he gave himself away by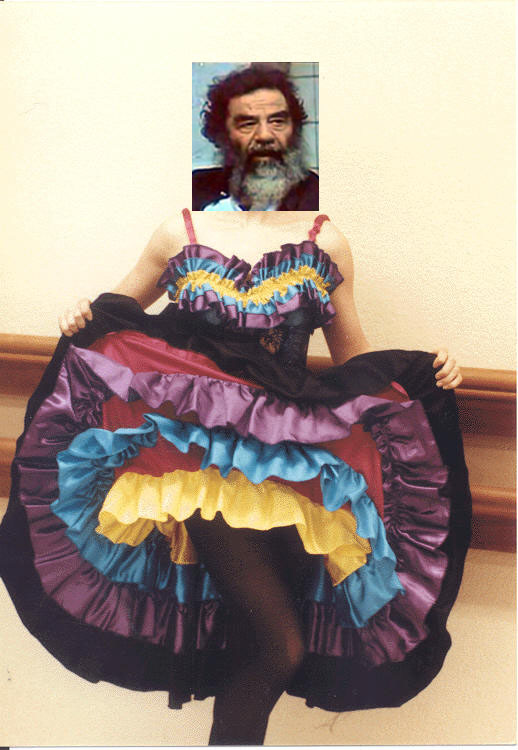 threatening to have a distinguished headline writer and noted numismatologist beheaded for trying to redeem eight different coupons on a twelve dollar order. The usually dapper Hussein appeared to be suffering from asthma.
The object of the most intensive manhunt in Hackensack since an all points bulletin went out for a pair of quote marks that was missing from the nickname of Mayor Charles Ken Zisa, a bearded and scraggly Saddam was discovered hiding beneath the Can Can costume of the Boston Market manager.
"The similarities are uncanny," said Defense Secretary Donald "Ken" Rumsfeld after seeing a picture of a doctor examining Hussein for a persistent wheeze. Pictures of an Ohio power plant were later found in one of his pockets.
"They're un-Can Canny," said Lieutenant Colonel Gabriel Voorhis of the 82nd Air and Sea Borne Division whose unit led the raid on the Boston Market parking lot.
"That's all well and good," said Edwin P. Reiter, the disgruntled and hungry headline writer who was still awaiting a decision on whether his coupons were valid. "But do I get my two dollars off on two rotisserie chicken dinners or don't I?"
AP-ES-12-14-03 1610EST
- - - -

Chickie says, Why did Saddam Hussein cross the road?*
*Answer: To get to the other hideout.