Uh-oh, it's . . .
The Boston Market Story

Numismatologist denies fathering child with Anna Nickle Smith
By JUAN CHICKLETOWSKI
BACKINTHESACK, N.J. (Special to "201") -- Former Backinthesack Mayor Zisa Zisa Gabor denied being the father of tragic icon Anna Nicole Smith's five month old baby despite reports in the Burgeoning Record of Northern New Jersey and Environs that the toddler's first word was "Ken."
"Take my DNA, please," Gabor said as rumors swirled that other prospective fathers included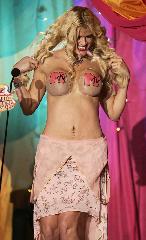 Record Vice President Frankie "Ken" Scandal and former Record Road Warrior columnist Jeffrey "Ken" Page. Page reputedly met Anna Nicole several decades ago when she was working as a Can Can Girl for ShopRite Supermarkets and she sent Page an email asking for assistance in dealing with a couple of flats. Page is said to have sent her two cans of Fix-a-Flat, and the rest, as they say, is history.
"At first," Page told People Magazine last week, "I couldn't understand why she needed the Fix-a-Flat, when she didn't even have a car." Anna Nicole's career went on to balloon and she never forgot Page, sending him several barrels of oil every Christmas from her oil tycoon husband J. Howard Marshall's private stock.
"I liked Anna Nicole because she was refined," Page told the Mourning Dallas News after Smith's death last week. "Unfortunately, the oil wasn't."
Meanwhile, mystery continued to swirl around the death of Anna Nicole, who was found motionless and lifeless in a Florida hotel room. Investigators found a deposit slip for the Wacko Via Sperm Bank in the name of J. Howard Marshall but bank officials said that due to a copy editing error in the bank's clerical department, Marshall's sperm may inadvertently have been switched with a deposit left by noted numismatologist and world renowned headline writer Edwin P. Reiter. Reiter made the deposit several years ago with the stipulation that it only be used in the future if the Indian maiden Sacagawea could be cloned from her DNA. "That would sure make headlines," Reiter is said to have told a bank teller.
Reiter, reached this week at the Backinthesack Boston Market where he was arguing with manager Renata Frittata over the expiration date on a coupon for two dollars off on two rotisserie london broil dinners, speculated that the father of Anna Nicole's baby may have been legendary UCLA basketball coach John Wooden, another Wacko Via donor.
"If you ask me," Reiter said as he poured gravy over his double side of mashed potatoes, "I wouldn't give a Wooden Nicole to be that baby's father."
AP-ES-05-20-05 1610EST
- - - -

Chickie says, Why did Anna Nicole Smith cross the road?*
*To get to the other billionaire.